G

MCs Envoy XUV has almost as many permutations as a Rubiks Cube. It can be a five-passenger SUV or an open air hauler. With the flip of a button, the back roof slides forward to create a small, weatherproof cargo space almost like a miniature pickup truck. This vehicle could be ideal for gardeners, cyclists or other hobbyists who want the versatility of carrying tall or dirty objects without trashing the interior of their SUV.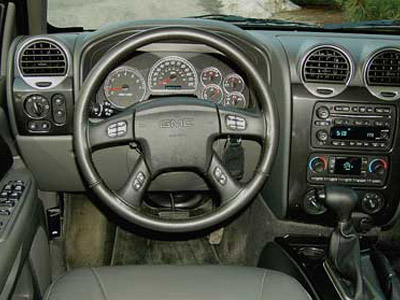 GMCs accessory group even offers a tent that fits over the cargo space and tailgate.
Prices begin at $31,890 for the two-wheel drive SLE or $34,115 for the four-wheel drive SLE. The two-wheel-drive SLT model begins at $36,490 and four-wheel drive starts at $38,715.
The XUV is a derivative of the Envoy XL, but it is actually configured a lot like Chevrolets Avalanche. The XUV has a 32-by-32-inch power sliding roof over the cargo area whereas the Avalanche is open. A midgate with separate window is located behind the back seat. It keeps the trucks cabin separate from the cargo area. The window retracts, however, and the midgate can then be folded into the cabin, creating a load floor that is more than six feet long. The tailgate folds out to extend that length to nearly eight feet. It also opens to the side if that is a more convenient way to load.
The rear cargo area is designed to be weather-resistant. It has a drain system that can channel up to 35 gallons of water per minute out of the cargo area. It can also be hosed down. Four tie-down rings can be moved to different locations for securing large items.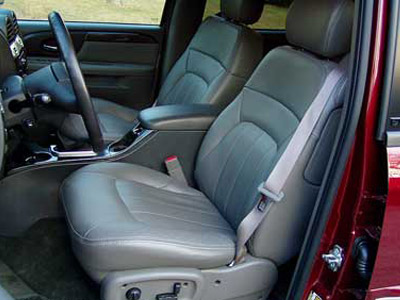 The XUVs unique hauling ability shows just how useful technology and clever engineering can be when it comes to designing a vehicle that is capable of handling a wide variety of tasks.
The XUV is quite a luxurious model. Although the standard engine is the 4.2-liter, 275-horsepower, six-cylinder powerplant, the optional 5.3-liter V-8 is a better choice. The 290-horse V-8 moves the XUV with ease because it has substantially more torque than the six cylinder. With the V-8, the XUV can tow 6,400 pounds.
The XUV rides on the same 129-inch wheelbase chassis as the Envoy XL. It is 16 inches longer than the standard Envoy. The extra length comes in handy for hauling, yet the vehicle is still almost a foot shorter than its bigger sister, the Yukon XL. Those are significant numbers when it comes time to wheel one into a garage or a tight parking space. The XUVs size did seem a bit confining when I drove it through an underground parking garage. Aside from that, it is almost as easy to manage as the smaller Envoy.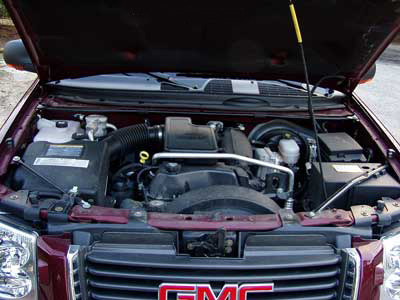 The XUV is very nicely equipped. The cabin has brushed silver trim accents and faux carbon fiber inserts on the instrument panel. Dual-zone climate controls are standard, and dual power outlets near the console are handy for cell phones and other accessories.
The navigation system and XM satellite radio are operated with a small LCD screen. The nav systems maps are clear and easy to read, but programming a destination is overly tedious and not very handy. The people that could really profit from a nav system are the same ones who dont have the patience, or technical acuity to learn a system that is not as simple and intuitive as it should be. I continue to wait for voice-activated systems that will replace the hunt-and-peck method of putting in an address you need to find.
Buttons for operating the audio system flank the LCD screen, and they are tiny and hard to hit with gloves on.
The test vehicles heated leather seats were very thick and plush. Front legroom is good, and the longer wheelbase gives tons of room for the back seat. There is no third seat available because of the cargo area.
Side airbags are provided for the front seats, and anti-lock, four-wheel disc brakes are standard. Traction control is an option for two-wheel-drive models.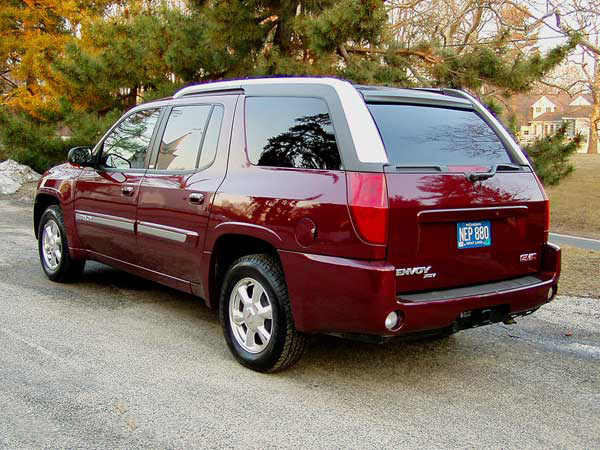 Feedback
Do you have any feedback on the Envoy XUV? Any opinions or experiences ofyour own? We would love to hear from you. Clickhere to send us your comments
Clickhere for more pictures of the Envoy XUV
Specifications
6-Cyl.
V-8
Engine Type
4.2-liter, double overhead cam (DOHC) Inline 6
Vortec 5300 5.3L overhead valve V8
Horsepower
275 @ 6,000 RPM
290 @ 5,200 RPM
Torque
275 @ 3,600 RPM
325 @ 4,000 RPM
Fuel Recommended
Regular Unleaded.
Transmission
4-Speed Automatic
Tires - Standard
All-season steel belted radial P245/65R17 tires.
Overall Length
208.4"
Wheelbase
129"
Width
74.7"
Turning Diameter
41.3 ft Curb to Curb
Curb Weight
4,945 lbs. (5,042 lbs. w. AWD)
Fuel Tank
22 Gallons
Miles Per Gallon 2WD
Miles Per Gallon AWD
EPA city 15, hwy 20
EPA city 15, hwy 19
EPA city 15, hwy 19
EPA city 15, hwy 18
Base Sticker Price
$31,240 plus $685 Destination Charge
2004 GMC Envoy XUV
Standard Equipment
5 person total seating capacity
Cloth upholstery (Leather on SLT)
Front and rear ventilated disc brakes
4-wheel ABS
Automatic headlamps with auto delay off
Cornering lights
Dual zone climate control
AM/FM cassette in-dash single CD player with 6 speakers
Power midgate window
Power retractable roof
Major Available Options
Vortec 5300 V-8 Engine
All-wheel drive
8-way power driver seat
8-way power front passenger seat
OnStar
Load-Leveling Rear Suspension
Power Adjustable Pedals
GPS navigation system
Power Glass Sunroof
Bose Premium Sound System
Side-Impact Airbags for Front Seats
XM Satellite Radio
Heated Front Seats
Adjustable Pedals
For more information on the Envoy, visit www.gmc.com
Copyright 2019, SmartTrac Computer Systems, Inc.
All Rights Reserved.