Reading Time:
6
minutes
It's getting harder to pick out a car these days. Unlike you, who know to come to publications like CarParts.com, most people don't know where to look for impartial information that can help them make sense of the bewildering array of models pouring into the marketplace. Instead they get most of their information from TV commercials and magazine ads which are as far from impartial as you can get, often telling nothing about the vehicle that is being hawked. And that's a shame, because there are so many good cars out there that will be overlooked.
Our test car is a case in point. The new Nissan Murano has such way out styling, that there will be people who glance at it and dismiss it as not being practical for their needs. And that couldn't be further from the truth.
| Attributes | Details |
| --- | --- |
| Category: | $30,000 – $35,000 5 Passenger Mid-Size Sports Utility Vehicle |
| Who should buy this car: | A person looking for a competent SUV that is sure to turn heads. |
| Comparable cars in this class: | Buick Rendezvous, Chevrolet TrailBlazer, Ford Explorer, Honda Pilot,  Mercury Mountaineer, Toyota Highlander |
This is a vehicle that definitely stands out from the crowd. It would not look out of place in the Shuttlecraft hanger of the Starship Enterprise. It has all of the utility and functionality of a typical mid-sized SUV, but with a look all its own.
The Nissan Murano was named for a small group of islands lying on the edge of the Adriatic Sea in the lagoon of Venice.This area is known throughout the world for its leadership in the production of decorative glass objects. Murano Glass is prized for its cutting edge design and innovative glass making technologies. It seems like the perfect name for Nissan's new starchild.
The futuristic look was not as dramatic inside as it was outside, but that was a good thing. Nissan made sure that practicality came first with a clean design and ample storage space.
There were lots of comfort and convenience features like a drivers seat with standard 8-way power as well as the optional power-adjustable throttle and brake pedals. Also included as standard was a dual zone climate control system with rear air conditioning vents on the pillars between the front and rear doors.
The cloth seats in our SL were comfortable and supportive. The driving position and control layout were nicely done. There are steering wheel controls for the sound system on the left spoke of the wheel and cruise control on the right. They were logically laid out and easy to use, but were not illuminated at night. This was not a problem once you got used to their placement and were able to use them by feel. Between the seats is a nicely sized lockable center console storage box with enough room to hold a laptop computer or purse
The split fold-down rear seat can be reclined and also includes a remote flip-down function. This allows the seats to be folded flat from the rear cargo area by pulling on a lever at the rear hatch instead of having to crawl in to reach the seatback. This mid-sized SUV has no third seat option. Instead, Nissan chose to arrange the available space to allow plenty of room for five people and their cargo.
The Nissan 3.5 liter 245 horsepower engine was smooth and powerful. This is the same engine that powers the Nissan Maxima and Z 350 sports car not to mention the Infiniti G35, I35 and FX35. All are stellar performers with the 3.5 liter engine tuned to match each application's personality.
Aside from the styling, the most interesting feature of the Murano was the standard Continuously Variable Transmission (CVT). What was so interesting about this unit was that it doesn't "shift" in the traditional sense. Instead, it would gradually change gear ratios from low to high without any discernible steps. The transmission just keeps the engine at the best RPM for all power applications in order to provide maximum performance and fuel economy.
The way that the transmission works is really quite simple. There are no forward gears or complex clutches and bands. Instead, there are two tapered pulleys with a steel belt connecting them. These pulleys can change their diameter through a signal from the computer. If the pulley halves are squeezed together making them narrower, the diameter in effect, increases causing belt to move to the outer edge. At the same time, the other pulley would spread out causing the diameter to decrease. This design eliminates the need for a 4 speed, five speed or even a six speed transmission, instead allowing for an infinite number of "speeds". The net effect is better fuel economy (at light throttle, the engine rpm is always at the optimal point for maximum economy), and better performance (the engine can stay in its sweet spot for maximum horsepower delivery)
The Nissan Murano is built off Nissans new FF-L (front engine, front-drive) platform, which it shares with the new Altima and Maxima. It is available in either front-wheel drive or all-wheel drive. The FF-L platform spreads the wheels out to the corners, allowing for a long wheelbase without increasing the overall length.
Safety has not been neglected on the Murano. Standard safety equipment includes: dual-stage supplemental front air bags with seat belt sensors, front seat side air bags, front and rear side curtain air bags. and front seat active head restraints.
On the road, the Murano felt smooth and composed. The ride was a bit firm for my taste, but on the upside, it provides stable cornering control and fairly crisp steering feel. Wind and road noise was well controlled and directional stability was good.
A DVD based navigation system is available as an option. It has a map display that could be switched between normal (Plan) view or the unique to Nissan Bird view. This is where the map is at an angle making it appear as though you were a few hundred feet above the road surface and seeing a 3 dimensional panorama as a bird might see it, all the way to the horizon. I liked the fact that you can see all the small roads and streets in the range of about 1/4 mile, and the major roads and Interstate network as far as ten miles away. In plan view (which is what all other systems use), you would have to zoom out to see the distant highways and zoom in to see the local streets.
Other options that are available for the Murano include: A stability control system that Nissan calls "Vehicle Dynamic Control", leather trim and 18-inch 5-spoke aluminum-alloy wheels with a chrome finish. The interior is offered in three colors, Cabernet, Charcoal and Caf Latte, and is available in either cloth or leather.
There is plenty of smooth power on tap and the handling is decidedly un-SUV like. We even took it out on a winding road that I normally use to evaluate sports sedans and I have to say that this Murano acquitted itself quite nicely with flat cornering and responsive steering. On my way home, I drove past a high school and noticed that the Murano caught the eye of a group of kids on their way home from school. I overheard one of them say "FUN-KAY". (Is that good or bad??)
Specifications
Attributes
Details
Engine Type
3.5 liter V6 Double Overhead Cam 24 valve Engine with variable valve timing
Horsepower
245 @ 5,800 RPM
Torque
246 @ 4,400 RPM
Fuel Recommended
Premium 91 Octane Unleaded.
Transmission

Continuously Variable Transmission (CVT)

Tires

P235/65TR18

Overall Length
187.6″
Wheelbase
111.2″
Width
74.0″
Turning Diameter
37.4 ft Curb to Curb
Curb Weight
3,801 to 3.960 lbs. depending on the model
Fuel Tank
21.7 Gals
Miles Per Gallon
20 mpg city, 24 mpg highway
Acceleration 0 to 60
8.2 Seconds
Base Sticker Price
$28,199 + $540

 

destination charge
Standard Equipment
Nissan Murano
3.5 liter V6 Double Overhead Cam 24 valve Engine with variable valve timing
Continuously variable automatic transmission
Front and rear ventilated disc brakes with 4-wheel ABS
Dual zone climate control for driver and front passenger
8-way power driver seat
Cloth upholstery
Electrochromatic inside rearview mirror
Audio and cruise controls on steering wheel
Universal remote transmitter for garage door
Leather-wrapped steering wheel
Leather trim on doors
Remote power door locks
1 one-touch power windows
Front console with storage
AM/FM in-dash single CD player stereo with 6 speakers
Front side-mounted airbags
Major Available Options
Leather seats
Navigation Package
Vehicle Dynamic Control (VDC)
All-wheel drive
Power sliding glass sunroof
Bose audio system with speed-sensing volume control
Adjustable pedals
Chrome Wheels
Any information provided on this Website is for informational purposes only and is not intended to replace consultation with a professional mechanic. The accuracy and timeliness of the information may change from the time of publication.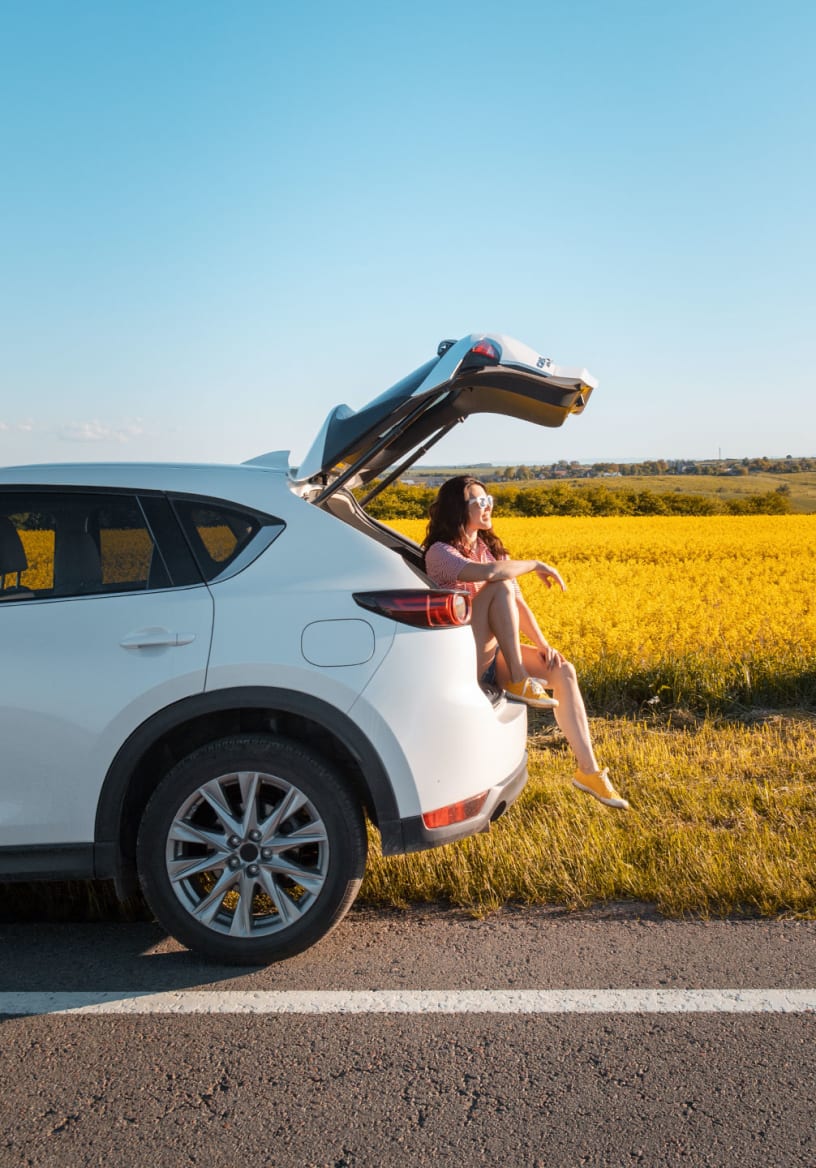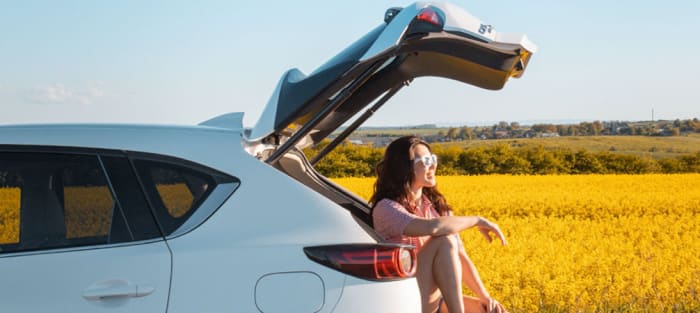 Get Premium Automotive Content
Guides & features that can help you extend the service life of your car delivered straight to your inbox.
Thank you for signing up. Your coupon is on its way to your inbox.