Reading Time:
7
minutes
Tons of competition crowd the compact sedan category, which includes some notable entries like the Toyota Corolla, Honda Civic, Ford Focus and VW Golf; however, most cars in this class are simply basic appliances that will reliably get you from point A to B with minimal fanfare and be hard to find in a parking lot.
The Mazda3, on the other hand is a serious small sedan with a playful side. Jump behind the wheel and, even before you put the key in the ignition switch, you will notice the upscale dash and colorful upholstery.
Category:
$14,000 to $20,000 Front Drive Compact Sedan
Who
should buy
this car:
A person looking for a small sedan that is both fun to drive and practical
Comparable
cars in
this class:
Chevrolet Cavalier, Chevrolet Cobalt, Dodge Neon, Ford Focus, Honda Civic,
Hyundai Elantra, Kia Spectra, Mitsubishi Lancer, Nissan Sentra,
Saturn Ion, Suzuki Forenza, Toyota Corolla, Volkswagen Golf
The Mazda3 is the replacement for the Mazda Protg of old. In keeping with the very successful "Zoom Zoom" advertising campaign, the car was given an aggressive styling treatment, along with interior appointments that beckon "C'mon in and let's dance."
The fit and finish of the Mazda3 sedan and 5-door hatchback are as good as, if not better than any of the other cars in this overcrowded class. Both cars that I tested for this review were s models, one was a sedan with an automatic transmission and the other was the 5-door with the manual shifter. They both were equipped with the very smooth 2.3 liter 160 horsepower 4 cylinder power plant.
I was able to find a comfortable driving position with the height-adjustable drivers seat and a steering wheel adjustable for both reach and height. There was also a manual lumbar adjustment on the driver's seat, but no angle adjustment for the seat cushion. The steering wheel is the same one used on big brother Mazda6 and even on the RX8 sports car. It feels good in your hands and has a nice arrangement of illuminated buttons on the spokes for the audio and cruise controls.
The instrument cluster is illuminated both day and night and is always clear and easy to read. The numbers and pointers light up bright red, which is supposed to be easier on the eyes. The jury is still out on that one.
The audio controls are unusual and take a bit of getting used to. The volume control is in the center between a series of buttons with two additional knobs just below. Changing the volume puts on a light show with flashing LED's skipping along a thin red strip that runs horizontally through the row of buttons. This is the kind of stuff that attracts younger drivers, but drives some of us automotive journalists to distraction as we try to learn the controls and displays in the short time that we have with each car, but an owner who will be driving the car every day should have no problem adapting.
Out on the open road is where the Mazda3 shines. Sure, it's primarily a compact economy car, but Mazda has succeeded in injecting a healthy dose of "fun to drive" into the mix. The steering feels a bit sharper as does the throttle response. Cornering is crisp and competent and negotiating winding country roads inspires confidence, even for the conservative driver who refuses to ever break the speed limit (if that's you, when you see me behind you, please move over… Thanks).
I had a chance to sample the Mazda3 with both the 4 speed automatic and the 5 speed stick. Both transmissions are a step up from what you would expect in a compact sedan, .the 4-speed automatic is very smooth in all driving situations and provides almost imperceptible shifts at light throttle, while producing firm shifts when your right foot says 'give me some juice'. A neat feature that is a surprise in this economy minded class is the manual shift mode that lets you slip the automatic shifter from the automatic mode into a manual gate and do your own shifting.
The five speed stick was also a happy surprise, matching the shift feel and smoothness of cars that cost double what the this car sells for. The shifter was perfectly positioned and had an expensive feel to it. Clutch take-up was smooth and easily controlled.
The new body is quite rigid, providing a good solid platform for the suspension. This allows engineers to use stiffer springs for better handling without it adversely affecting ride comfort.
The mazda3 has 5 sets of seatbelts which, I suppose means that it is a 5 passenger car. It would be best for the first four passengers if that fifth passenger were still in elementary school, just to keep the peace. There is plenty of room up front, but if the folks in the front seats are more comfortable with their seats adjusted back, rear seat passengers will suffer with their knees pressed up against the front seatbacks.
While this is a spunky little car that young people will have no problem being seen in, it has it's practical side as well. Trunk space is not overly large, but it is well shaped with a good sized opening. The rear seatbacks will easily flip down to extend the trunk into the rear seat area. If you need more room, opt for the 5-door hatchback instead of the sedan. The 5-door is more of a small wagon than a hatchback and allows you to indulge your practical side while keeping the 'Zoom' intact.
There are 3 trim levels for the Mazda3:
The economy minded Mazda3 i model can be had for under $14,000, though you will have to do without power windows, mirrors and door locks. You will also be missing cruise control and even air conditioning to get that price. All those features are available as options and I doubt that you will find a car without at least some of these options on a dealer's lot.
The Mazda3 s model has all those features listed above as standard equipment. It is also equipped with nice sporty touches like leather wrapped steering wheel and shifter as well as low profile 16 inch performance tires and alloy wheels, This model has a starting price of just under $17,000.
The SP23 Special Edition adds heated leather seats, 17 inch V-rated performance tires and a slick Bose sound system to the mix. Expect to pay just under 20 grand for that one.
One disappointment is that none of these models include ABS or side and curtain air bags in the base price. You will have to check off the options list to get those features. That's not so bad, you will of course have to pay extra, but the car will still be a good value. The problem is that it may be hard to find the car you want on the dealer's lot with ABS and side air bags. Dealers feel that a compact car in this price range will be harder to sell with an extra $800 safety package tacked on to the window sticker. You cannot order ABS separately, it can only be ordered as part of this safety package.
There are a number of decidedly un-economy car features that are available for this car. Everything from an in-dash 6-disc CD changer to a GPS navigation system is on the options list. You can get that safety package I spoke about, which includes Antilock Brakes, front-side and front & rear curtain air bags. There is also a nice leather upholstery option (which is standard on the SP23 Special Edition) and some very competent performance wheels and tires available. If you are careful with the options list, you should be able to get a well equipped car for around $20,000.
If your budget restricts you to a compact car, or you simply like the idea of an inexpensive small car that can scoot around and pop into parking spaces without having to sacrifice room for people and stuff, then you can't do much better that the Mazda3.
Specifications
Mazda3 4-door sedan
 
Mazda3 i
Mazda3 S and Special Edition
Engine Type
2.0-liter 16 Valve Dual-Overhead-Cam inline 4
2.3-liter 16 Valve Dual-Overhead-Cam inline 4 with variable valve timing
Horsepower
148 @ 6,500 RPM
160 @ 6,500 RPM
Torque
135 ft-lbs. @ 4.500 RPM
150 ft-lbs. @ 4.500 RPM
Fuel
Recommended
Regular Unleaded
Regular Unleaded
Transmission –
Standard
Transmission –
Optional
Five Speed Standard Shift
Four Speed Sport Automatic
Five Speed Standard Shift
Four Speed Sport Automatic
Drive Type
Front wheel drive
Front wheel drive
Tires-Standard
P195/65HR15-all season
P205/55HR16-all season
(P205/50VR17-all season on the SP23 Special Edition)
Overall Length
178.3 "
178.7 "
Wheelbase
103.9″
103.9″
Width
69.1″
69.1″
Turning
Diameter
34.1 ft Curb to Curb
34.1 ft Curb to Curb
Curb Weight
2696 lbs.
2762 lbs.
Fuel Tank
14.5 Gals.
14.5 Gals.
Miles Per Gallon
(Manual)
Miles Per Gallon
(Automatic)
EPA city 28, hwy 35
EPA city 26, hwy 34
EPA city 25, hwy 32
EPA city 24, hwy 29
Acceleration 0 to 60
N/A
7.8 Seconds (Manual transmission)
Base Sticker
Price
starts at:
$13,680 + 560 destination charge
$16,615 + 560 destination
charge
Standard Equipment
Mazda3 Front Wheel Drive 4-door Sedan
(Partial List)
2.0 liter 148 hp 4 cyl. engine
Five-speed Manual transmission
Ventilated front disc and solid rear disc brakes
Steel rims with full wheel covers
Cloth upholstery
Speed-proportional power steering
Tilt and telescopic steering wheel
Audio controls on steering wheel
Remote driver and passenger exterior mirrors
AM/FM in-dash single CD player stereo with 4 speakers and speed sensitive volume control
S models also include:
(Partial List)
2.3 liter 160 hp 4 cyl. engine with variable valve timing
Alloy rims
P205/55HR16 all season tires
Front fog/driving lights
Height adjustable driver seat with manual lumbar support
Remote power door locks
Power windows
Cruise control
Audio and cruise controls on steering wheel
Air conditioning
Leather-wrapped steering wheel and shift knob
AM/FM in-dash single CD player stereo with 6 speakers and speed sensitive volume control
SP23 Special Edition models also include:
(Partial List)
polished alloy rims
P205/50VR17 all season tires
Automatic headlamps
Leather upholstery
Leather trim on doors
Heated Seats
Bose AM/FM in-dash 6 CD player stereo with 7 speakers
Major Available Options
(Partial List, depends on model, some options only available as part of a package, see your Mazda dealer for details)
4-Speed Sport Automatic Transmission
DVD Navigation System
Power moonroof
Rear Wing Spoiler
Anti-lock brake system (ABS)
Dual front seat mounted side-impact air bags, and side air curtains (front and rear coverage)
Leather Upholstery
In-Dash 6-Disc CD Changer
Xenon high-intensity discharge headlight (HID)
Sport Package: Includes 17″ alloy wheels, P205/50R17 V-rated all-season tires, and side sill extensions
Air Conditioning (i models)
Power door locks, power windows, cruise control & power mirrors (i models)
For more information on the Mazda3, visit mazdausa.com.
Any information provided on this Website is for informational purposes only and is not intended to replace consultation with a professional mechanic. The accuracy and timeliness of the information may change from the time of publication.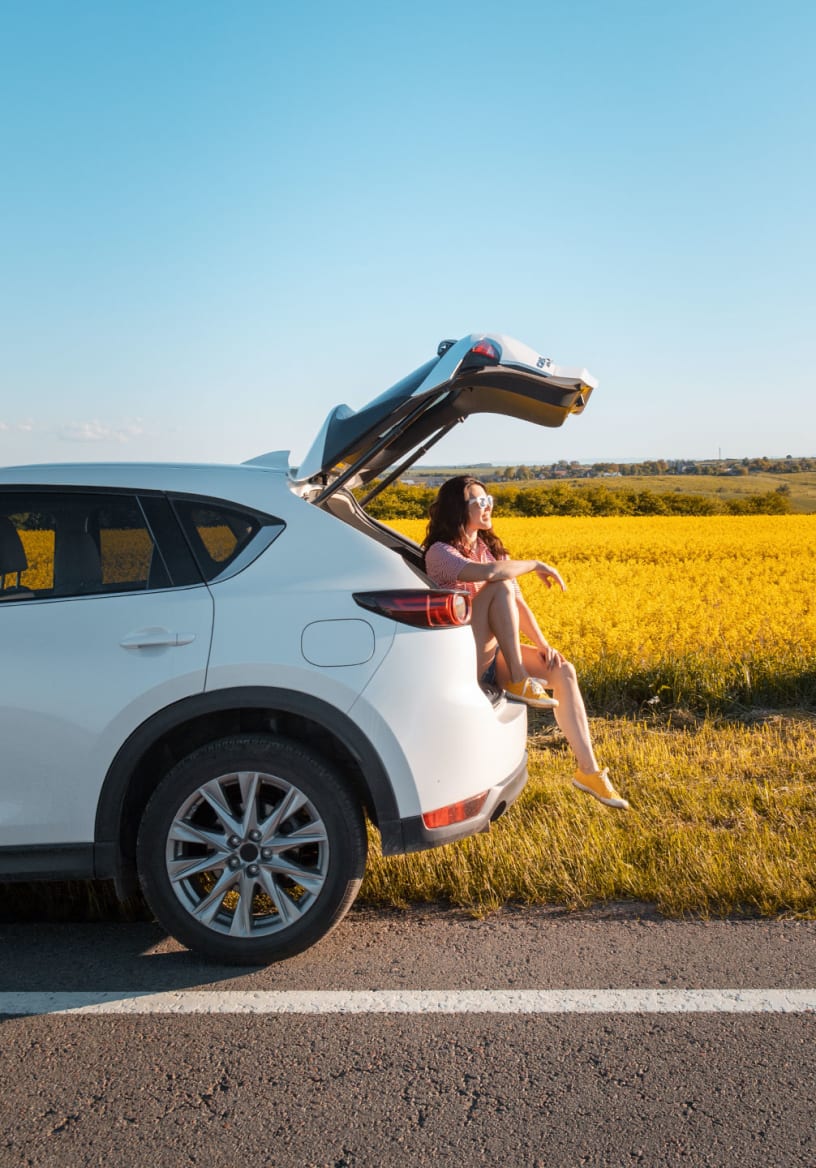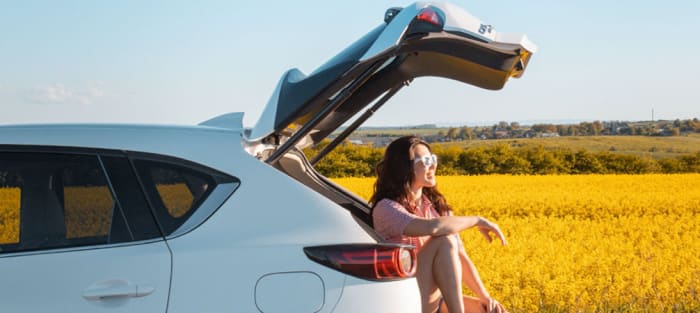 Get Premium Automotive Content
Guides & features that can help you extend the service life of your car delivered straight to your inbox.
Thank you for signing up. Your coupon is on its way to your inbox.