Reading Time:
6
minutes
| | |
| --- | --- |
| Category: | $20,000 to $30,000 Rear-wheel Drive 2 passenger Sports Car |
| Who should buy this car: | A person looking for a fun to drive and fun to look at pure sports car with a bit of civility thrown in |
| Comparable models in this class: | Pontiac Solstice, Saturn Sky |
The Bottom Line─ The Mazda MX5 Miata has always been the modern equivalent of the classic British sports car. With an available retractable hardtop for 2007, it now becomes even better. It has its flaws, but any true sports car lover can overlook these and enjoy the moment.
I became a car nut because of a low-powered British sports car, an MGA. I almost gave up on cars because of the same car, because it was unreliable, ridiculously quirky, and simply not made for American driving.
The MGA died, as did MG, essentially. But Mazda launched the Miata in 1990, and this car is good where the MGA was not good (it still hurts to say bad), and offers just as much driving fun, if not more. The MX5 Miata, like the MGA, is underpowered, but you hardly notice it because of the fun you're having.
Mazda redesigned the MX5 Miata in 2006, for its third reiteration. It didn't share any components with the car it replaced. And yet, its the same car it was when it was first introduced. This is what Mazda discovered that British Leyland Motors didn't; upgrading a car without changing its basic character is good.
First, the engine. Powering the Miata is a 2.0-liter inline four. It drives the rear wheels through a 6-speed automatic transmission (in the Grand Touring model) with a manual mode. So if you want to be lazy, you can keep the gear selector lever in full automatic mode and the Miata shifts when it feels its the right time to shift.
But if you want to drive the Miata like a sports car, and I found I wanted to drive the Miata this way, then shift the lever into M and shift using paddles located behind the steering wheel. There are clearly marked upshift and downshift paddles on both sides of the wheel, so you don't have to decide which ones you want to use. They shift instantaneously, and since there's no clutch pedal to mess up, the shifts are smooth.
In the week I had the Miata I don't believe I exceeded 60 mph on any road. But boy did I have fun. And that's the essence of a true sports car as far as I'm concerned. The engine/transmission combination is so well balanced that speed isn't important.
Obviously, the other half of the sports car equation is great handling, and the Miata passes this test with flying colors as well. We drove the Miata over our favorite twisting mountain road, upshifting and downshifting with the paddles and taking the corners as fast as we dared.
I would love to take the Miata out on a race track or slalom course somewhere where I could do what I wanted without the fear of running into a car coming the other way.
This all-new third-generation MX5 Miata has a new front suspension that is comprised of double wishbones, as in the best sports and race cars. The rear suspension uses long links to help linearity. Coil springs are used all around with gas-filled shock absorbers. Steering is by rack-and-pinion (power-assisted) and there are disc brakes at all four corners.
Aiding in the handling is the front mid-ship engine location. This means that it is pushed way back in the engine bay, which contributes to nearly ideal 50-50 front-to-rear weight distribution, leading to better balance and – ta da – be better handling.
The two seats are extremely comfortable and offer excellent side support. It might have been slightly better to have even more side support, but then I might have been tempted to drive the Miata even harder. The seats were manually adjustable.
Instruments were white-on-black, as in classic sports cars. They included a speedometer, tachometer, oil pressure, water temperature and fuel.
To make the passenger compartment as roomy as possible, there are power windows and mirrors. No modern car is without cup holders, and the Miata has them in the doors as well as in the center console.
When I drove a soft top Miata last year, I was impressed with the headroom with the soft top up. There was never the feeling that I was going to touch the roof. The soft top was manually operated, but once you get the hang of how it worked, it raised and lowered fairly easily- a lot easier than my MGs top did. The top folds neatly into its own boot, that doesn't reduce trunk space. When it's up, you can use the boot for additional storage.
This year, Mazda adds a Power Retractable Hard Top (PRHT) to the Miatas list of options. The PRHT disappears on cue, folding into the trunk when the open button is pressed. The PRHT also uses no trunk space.
The PRHT consists of three parts – a front section, a middle section, and the rear window – which hinge and move to nest atop one another in exactly the same space as the soft top. Windows automatically lower several inches when the open button is pressed. Opening and closing cycles last 12 seconds, making it the fastest power-operated retractable hardtop in the U.S.
The Mazda MX5 Miata Grand touring lives up to its name. The Miata has always been a good sports car. The original concept was excellent, and the redesign of the third generation keeps the tradition alive. The addition of the PRHT doesn't interfere with the cars design and simply adds practicality. If you're a fan of big honking power and noisy exhaust notes, this isn't the car for you. But if you're interested in seeing and experiencing what the classic sports cars of the Fifties were like (or would have been like with a bit of civilization), then this is the car for you.
But be careful, you may turn into a car nut.
2007 The Auto Page Syndicate
Second Opinion – by Charles Ofria
The week that we had the Mazda MX5 Retractable Hard Top treated us to fabulous weather, so needless to say, the top was down most of the time.  This little car was simply a blast to drive and my wife and I took every opportunity to use it. This MX5 is as refined a sports car as you are likely to find anywhere near this price range.  We expected a typical sports car-like choppy ride, but were pleasantly surprised by how well it took to the broken pavement in our neck of the woods.  I found acceleration from the 2 liter 4 cylinder engine to be more than enough for anything I asked of it.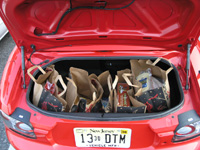 On our way home one day, my wife and I decided to go grocery shopping.  After we finished with the checkout, we looked at the 5 large grocery bags in our shopping cart, then looked at each other and both realized at the same time which car we had.  My wife wondered how many bags she would have to place on her lap.  Well, guess what, the trunk in our red rocket swallowed all the bags with room to spare for another bag or two.  This is one of the only retractable hard tops that I know of where the top does not use any trunk space when down.
Standard Equipment
(partial list)
166 horsepower 2.0 liter 4 cylinder Engine
5 speed manual transmission
Rear-wheel drive
16 inch alloy wheels with P205/50R16 performance tires
4 wheel disc brakes with ABS
Double wishbone front suspension
Dual front side-mounted airbags
2 person seating capacity
Cloth upholstery
Power windows
Power mirrors
Tilt-adjustable steering wheel
AM/FM in-dash single CD player stereo with 4 speakers
Sport model Adds…
(partial list)
Air conditioning
Leather-wrapped steering wheel
Front floor mats
Touring model Adds…
(partial list)
Front fog/driving lights
17 inch alloy wheels with P205/45ZR17 84W performance tires
Remote power door locks
Cruise control
Leather trim on shift knob
Grand Touring model Adds…
(partial list)
Leather upholstery
17 inch alloy wheels with P205/45ZR17 84W performance tires
Heated front seats
Bose premium brand stereo system with 7 speakers
Major Available Options
(Partial List, depends on model, some options are only available as part of a package, see your Mazda dealer for details)
6-speed automatic transmission with manual mode and paddle shifters
Retractable hard top
Sport tuned suspension package
Satellite radio
Run-flat tires
Brushed aluminum interior trim package
Rear lip spoiler
Premium Package 1 Includes: Xenon HID headlights, stability control, traction control, limited slip rear differential, Mazda Advanced Keyless Entry System and remote anti-theft alarm system.