Reading Time:
6
minutes
So you are in the market for a mid-sized sedan and you realized that there is a bewildering array of cars to choose from in this category. Take a look at the list of cars above to see what I mean. These are all good cars that will seat 5 adults, ride comfortably, get reasonable gas mileage and performance, and all of them should last years with minimal maintenance. Each one of these cars is the perfect choice for someone, and most of you won't go terribly wrong with any one of them. But then, the reason you are reading articles like this one is so that you can find the perfect car for you, right?
Let's assume that you have already narrowed your search to a mid-sized CarParts.com with front-wheel drive that is as far from boring as you can get while still being practical. You want a car that is above average in looks and, more importantly, is fun to drive.
| | |
| --- | --- |
| Category: | $19,000 to $25,000 Front Drive Mid-Size Sedan |
| Who should buy this car: | A person looking for a sports sedan with scoot or, should we say "Zoom, Zoom." |
| Comparable cars in this class: | Buick Century, Chevrolet Malibu, Chrysler Sebring, Dodge Stratus, Ford Taurus, Honda Accord, Hyundai Sonata, Kia Optima, Mercury Sable, Mitrubishi Galant, Nissan Altima, Oldsmobile Alero, Pontiac Grand Am, Pontiac Grand Prix, Saturn L300, Suzuki Verona, Toyota Camry, Volkswagen Passat |
With those qualifications, we can narrow our search to about a dozen cars. Not much help there. Ok, you want the styling to be flashy, but tasteful and you want a V6 with a 5-speed automatic that you can shift yourself and you want to keep the sticker under $25,000. Now, that is helpful. We are down to 4 cars, the Mazda6, Nissan Altima, Honda Accord and Toyota Camry. If you wanted a 5-speed stick shift instead of a sissy automatic, we are down to 2 cars, the Mazda6 and the Nissan Altima.
Now, your practical side pops in as it sometimes will, and says that you need some utility that a normal 4-door sedan just won't provide. You would much rather have a 4-door sedan with a hatchback. Something with a fold-down seatback so that you can carry lots of stuff when necessary. Well, now you are down to one car. You guessed it, the Mazda6.
Two new models were added to the Mazda6 lineup for 2004 to keep the 4-door Sports Sedan company, a racy 5-door hatchback (pictured above) and a new station wagon (below). Both of these new models have the same driving character as the fun-to-drive 4-door sedan that was carried over from 2003.
I really dig the looks of the 6. I think that the styling is clean, with a young, happy personality. The interior is neat and organized with a quality feel throughout. The driving position is just how I like it with comfortable seats and good control placement. Steering Wheel controls for the sound system and cruise control are convenient and well designed, and (most importantly) illuminated at night.
Mazda has built their new philosophy around their advertising slogan. In case you just got back from a trip to Mars and don't know about it, that slogan is "Zoom-Zoom". The idea is that every Mazda, from the 2 seat Miata to the 7 passenger MPV Minivan is, first and foremost, fun to drive. This Mazda6 trio is no exception.
Looking at the spec sheet, we find that the front suspension is a double wishbone setup while the rear is a multi-link E-type with coil springs all around. Mumbo-jumbo aside, this setup works, giving the 6 a solid, stable ride that is very controllable and easy to maneuver. The fast 2.54 turn lock to lock steering is precise and direct, giving this car a nimble, highly connected feel. I had the opportunity to take a couple of these cars out on an autocross track and was quite impressed with the handling competence that these cars had available.
On the highway, I found that wind noise was quite well controlled. Road noise was acceptable, but not up to the levels of the class-leading Toyota Camry.
The Mazda6 is available with either a 160 HP four or a 220 HP V6. Both engines can be had with either a 5-speed manual transmission or an automatic (5-speed on the V6, 4-speed on the 4) The 5-speed manual transmission is precise and direct, with ideal shifter placement and feel. If you like to row your own, this unit is hard to beat.
I didn't get a chance to sample a 4, but the 3.0 liter V6 was very smooth and civilized. Since Mazda is part of the Ford stable, the V6 comes from the Ford parts bin and is manufactured in America. In fact, the entire car is manufactured in Flat Rock, Michigan which is a stone's throw from Detroit.
When it comes to choosing between the Sedan, hatchback and wagon, my money is on the 5-door hatchback. This hatchback opens up wide and says ahhh with the best of them. There are two levers within easy reach to allow you drop the seatbacks down without any fuss. The opening is wide enough to accept anything that will fit inside. Despite the large opening, Mazda made sure that structural rigidity is every bit as good as in the sedan
Looking over the options list, I noticed that there are no optional sport suspensions. Mazda says that the basic car is designed with all the main features of a sports suspension and nothing else is needed. I agree. In fact, if you equip your Mazda6 with the V6, you automatically get 17 inch wheels and V-rated all-season performance tires. That should tell you something about their intent.
If you are looking for a front-wheel drive mid sized station wagon with a V6 that is priced under $25,000, your choices are limited to the Mazda6, Ford Taurus, Mercury Sable or the Saturn L300. You want a 5-speed automatic or a stick, you guessed it, Mazda6 is all there is.
Now that you have a family and responsibilities, and that Mustang that you loved so much just won't cut it any more, this new batch from Mazda should keep you smiling while you are being the picture of responsibility.
Zoom-Zoom….
Specifications
V6
4 Cyl
Engine Type
3.0-liter 24 Valve Dual-Overhead-Cam V6 with variable valve timing.
2.3-liter 16 Valve Dual-Overhead-Cam in-line 4
(not available in station wagon)
Horsepower
220 @ 6,300 RPM
160 @ 6,000 RPM
Torque
192 ft-lbs. @ 5.000  RPM
155 ft-lbs. @ 4.000 RPM
Fuel Recommended
Regular Unleaded.
Transmission – Standard
Optional
Five Speed Standard Shift
Five Speed Sport Automatic
Five Speed Standard Shift
Four Speed Sport Automatic
Tires-Standard

215/50 R17 V-rated tires

P205/60HR16 tires on sedan


215/50 R17 V-rated tires on 5-door

Overall Length
186.8 "
Wheelbase

105.3″

Width
70.1″
Turning Diameter
38.7 ft Curb to Curb
Curb Weight

3045 lbs. to 3389 lbs, depending on model and engine

Fuel Tank

18 

Gals.
Miles Per Gallon (Manual)
Miles Per Gallon (Automatic)
EPA city 19, hwy 27
EPA city 19, hwy 27
EPA city 24, hwy 32
EPA city 22, hwy 29
Acceleration 0 to 60
6.7 Seconds
8.5 Seconds
Base Sticker Price starts at:
$18,895 + 520 destination charge
Standard Equipment
Mazda6 Front Wheel Drive Sedan
Five-speed Manual transmission
ventilated front disc and solid rear disc brakes with ABS
Cloth upholstery
1 one-touch power windows
Tilt and telescopic steering wheel
Audio and cruise controls on steering wheel
Air Conditioning with interior air filtration
leather-wrapped steering wheel and shift knob
AM/FM in-dash single CD player, CD-controller stereo with 6 speakers
V6 models also include:
220 Horsepower 3.0 liter V6
Alloy rims
P215/50VR17 all season tires
4-wheel ABS
Traction control
Automatic Climate Control AC
Remote anti-theft alarm system
Major Available Options
(Partial List, see your Mazda dealer for details)
5-Speed Sport Automatic Transmission
Leather Upholstery
Power moonroof
Bose Audio Package
In-Dash 6-Disc CD Changer
Side air bags and side curtain air bags
Compass/AutoDim Mirror with Homelink
Sport Package, available either with or without Rear Spoiler. Includes sport type front and rear bumpers, rear spoiler, side sill extensions, fog lights, oval type dual exhaust outlets
8-Way Power Driver's Seat
Any information provided on this Website is for informational purposes only and is not intended to replace consultation with a professional mechanic. The accuracy and timeliness of the information may change from the time of publication.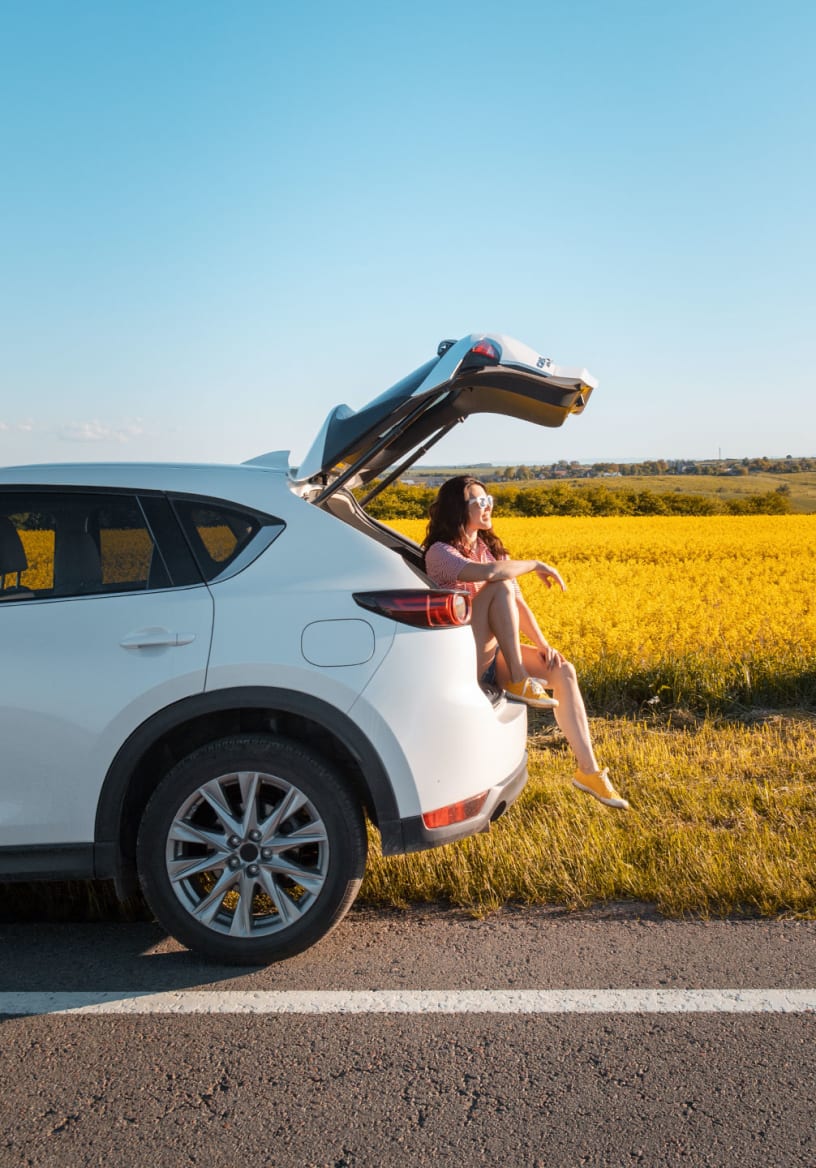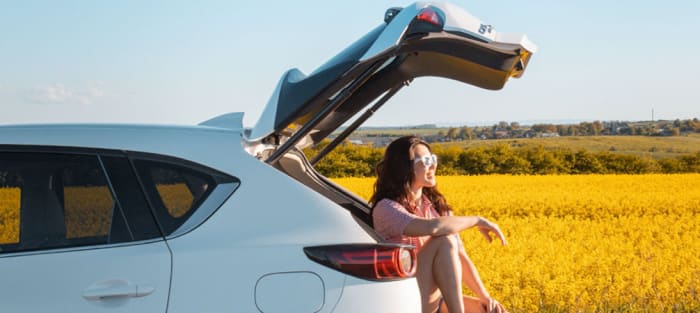 Get Premium Automotive Content
Guides & features that can help you extend the service life of your car delivered straight to your inbox.
Thank you for signing up. Your coupon is on its way to your inbox.